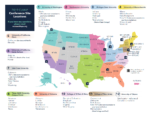 The College of William and Mary is hosting students from Virginia, West Virginia, North Carolina, Maryland and District of Columbia . Students from Canada are encouraged to apply to the University of Ottawa site in Canada. Students from Canada may apply to closer U.S. sites if desired. However Canadian students accepted to U.S. sites are not eligible for reimbursement of travel expenses from the conference or for waiver of the registration fee.
There are two parts in applying to attend CUWiP:
First, you must apply on the APS website before October 12, 2018. The applications for 2019 CUWiP is now closed.
If you are accepted, you will receive an e-mail with the registration instructions. Attendees must register by November 16. Registering involves paying a $45 non-refundable registration fee to offset the cost of food and lodging.
If you cannot afford the registration fee or your department will not support you, you may request a fee waiver during application.
If you wish to cancel your registration and receive a refund, you must do so by December 29.
After you register, please like us on our Facebook group and follow us on Instagram and Twitter to stay in contact.