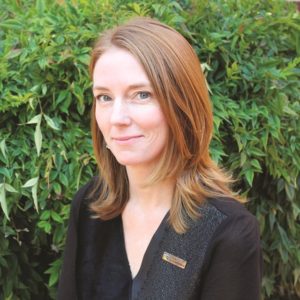 Allyson K. Anderson Book is the Executive Director of the American Geosciences Institute. Prior to accepting this position, she served as the Associate Director of Strategic Engagement of the Bureau of Safety and Environmental Enforcement (BSEE), where she worked to improve safety standards for offshore oil and gas development following the events of Deepwater Horizon in 2010.
She was previously a senior professional staff member on the U.S. Senate Energy and Natural Resources Committee, where she worked under then Chair Senator Jeff Bingaman. Her portfolio included energy and resource policy and federal oversight, and she later held an adjunct faculty position at Georgetown University, where she lectured on these issues.
Anderson Book came to D.C. as the 2006-2007 AGI William L. Fisher Congressional Geoscience Fellow after working several years as a senior geoscientist for ExxonMobil Exploration Company and conducting graduate research at the Kansas Geological Survey.
She holds a Master's degree in Geology from Indiana University-Purdue University at Indianapolis, and Bachelor's degrees in Geology and Music from the University of Northern Iowa. She is a former President of the Association for Women Geoscientists and has been an active member and volunteer for the American Association of Petroleum Geologists for more than 20 years.
Anderson Book was recently appointed as a member of the National Petroleum Council, a federally chartered advisory committee to the U.S. Department of Energy, and also serves as a member of the Advisory Committee to the Clean Energy Manufacturing Analysis Center of the National Renewable Energy Laboratory.